USD hit new highs after data showed the US economy remained strong last month, despite Fed's tight monetary policy and raised interest rates
The S&P 500 started the session down more than 1% yesterday, the 10-year Treasury yield hit the 3.25% level, and the US Dollar rallied on speculation that the latest data will force the Fed to raise rates more aggressively. The market already anticipates 0.75% at its meeting this month.
Overall, risk assets started the day under pressure after China locked down Chengdu due to COVID, which may further worsen the outlook for global economic growth.
Later, in the United States, the jobless claim data, which was lower than expected, led the market to anticipate strong employment data and today's non-farm payrolls.
On the other hand, the ISM manufacturing PMI data surprised with a higher-than-expected figure.
All of this makes investors think about an economy that shows no signs of weakness and could lead the Fed to continue with high-rate hikes.
Given this perspective and awaiting the relevant employment data to be published today, the American stock market indices continue to be under strong selling pressure. So is the case of the technological Nasdaq100, the most sensitive to the increase in financing costs.
In the commodity market, oil fell sharply after China decided to close the city of Chengdu, causing an increase in risk aversion in the market.
WTI oil is already very close to the support level of $85.25/barrel below, which would break down to levels close to $77 per barrel.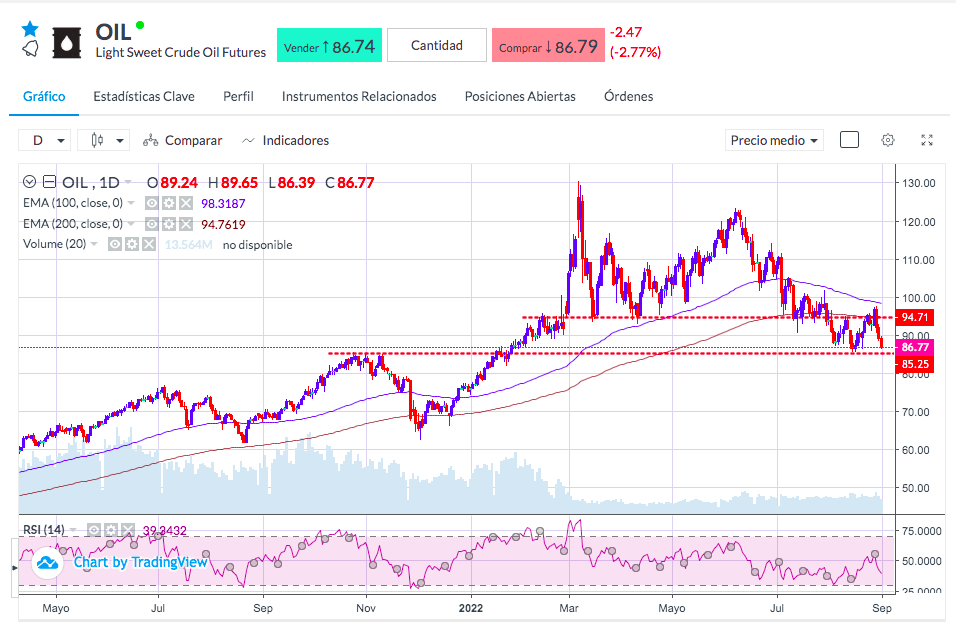 Sources: Bloomberg, Reuters
This information/research prepared by Miguel A. Rodriguez does not take into account the specific investment objectives, financial situation or particular needs of any particular person. The research analyst primarily responsible for the content of this research report, in part or in whole, certifies that the views about the companies and their securities expressed in this report accurately reflect his/her personal views and consequently any person acting on it does so entirely at their own risk.

The research provided does not constitute the views of KW Investments Ltd nor is it an invitation to invest with KW Investments Ltd. The research analyst also certifies that no part of his/her compensation was, is, or will be, directly, or indirectly, related to specific recommendations or views expressed in this report.

The research analyst is not employed by KW Investments Ltd. You are encouraged to seek advice from an independent financial adviser regarding the suitability of the investment, under a separate engagement, as you deem fit that conforms to your specific investment objectives, financial situation or particular financial needs before making a commitment to invest.

The laws of the Republic of Seychelles shall govern any claim relating to or arising from the contents of the information/ research provided.