Investors continued to avoid stocks amid concerns about an inflation-driven slowdown in global growth
Energy stocks fell more than 7%, pressured by a stronger US Dollar and the drastic drop in Oil and Natural Gas, which fell 7% and 12%, respectively, amid renewed fears about weakening demand from China. Shanghai has reportedly stepped-up lockdown measures over the pandemic.
China's recent lockdowns are expected to slow down the growth of the world's second-largest economy. This adds to fears of a significant slowdown in the global economy when central banks tighten monetary policy to control inflation.
Meanwhile, tech stocks were similarly affected, with Meta Platform down more than 3%. In comparison, Amazon fell more than 5%, as investors seem wary of a market recovery from these relatively low valuation levels. Treasury bond yields are taking a hiatus from highs, with the 10-year bond yield falling ten bps yesterday.
This sell-off across virtually all assets also caught up with crypto-related stocks, including Coinbase, and Riot Blockchain, which lost around 20% after Bitcoin fell to its lowest level since June.
In a clear sign of negative sentiment on Wall Street, consumer staples, which are seen as defensive in crisis scenarios, were the only positive sector.
The market begins to show signs of capitulation and closing of long positions by institutional investors in practically all risk assets, from stock markets to cryptocurrencies, including Gold, the US Dollar, and even Oil.
In oil's case, in addition to forecasts hinting at a drop in demand by the world's leading oil consumer, China, the black gold was pressured downwards by increased expectations of Iran's reincorporation into the export market and by the announcement of the Saudi Aramco company to lower the price of a barrel to Western European countries. Should both natural gas and oil prices continue to fall, it could help alleviate inflationary pressure.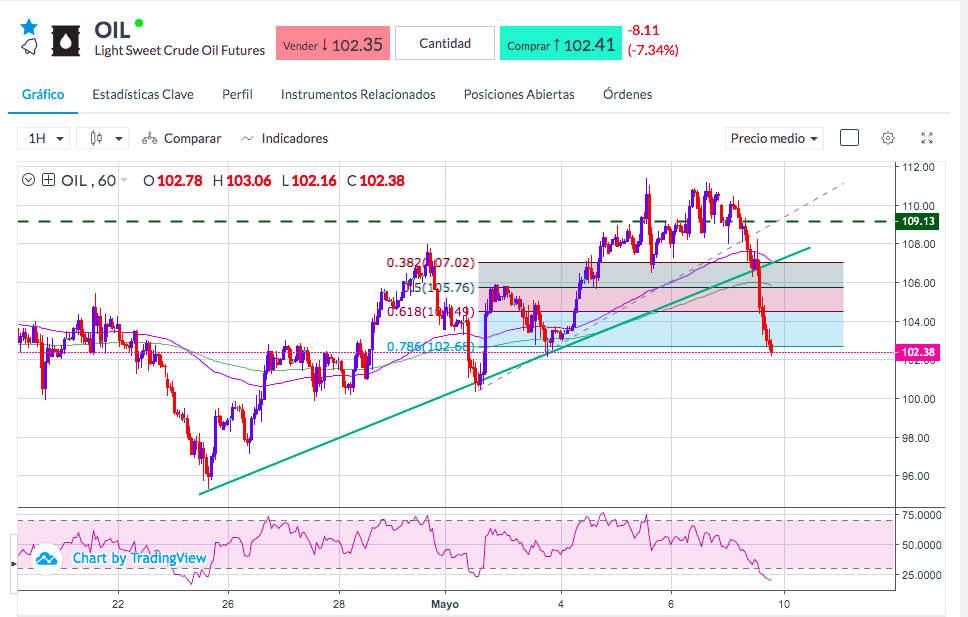 Sources: Bloomberg.com, reuters.com
This information/research prepared by Miguel A. Rodriguez does not take into account the specific investment objectives, financial situation or particular needs of any particular person. The research analyst primarily responsible for the content of this research report, in part or in whole, certifies that the views about the companies and their securities expressed in this report accurately reflect his/her personal views and consequently any person acting on it does so entirely at their own risk.

The research provided does not constitute the views of KW Investments Ltd nor is it an invitation to invest with KW Investments Ltd. The research analyst also certifies that no part of his/her compensation was, is, or will be, directly, or indirectly, related to specific recommendations or views expressed in this report.

The research analyst is not employed by KW Investments Ltd. You are encouraged to seek advice from an independent financial adviser regarding the suitability of the investment, under a separate engagement, as you deem fit that conforms to your specific investment objectives, financial situation or particular financial needs before making a commitment to invest.

The laws of the Republic of Seychelles shall govern any claim relating to or arising from the contents of the information/ research provided.