Fed's most recent comments and the positive data in the U.S. services sector have managed to calm the markets, leading to U.S. stocks reaching record levels again.
Progress in the approval of the infrastructure U.S. investment plan also contributes to this improved mood among investors. The first part of this one trillion-dollar plan could be green-lighted by the Senate as soon as today or tomorrow. The long-awaited infrastructure investment package could be a positive factor for the stock markets.
The indices, both in Europe and the United States, performed well yesterday, with Tech100 reaching a new all-time high, surpassing the previous level of 15.132.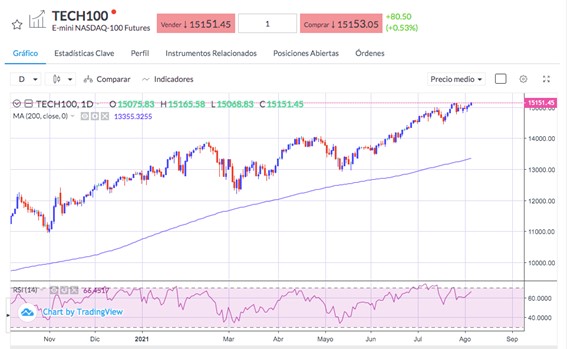 The employment figure, non-Farm payroll and unemployment rate, scheduled for publishing today, will undoubtedly be a decisive factor for the markets since it is crucial for assessing the recovery of the North American economy.
This optimistic market tone is reflected in the yen-related pairs, which have all recovered strongly after several days of losses in the foreign exchange market.
Of all these pairs, the GBP/JPY performed best, approaching the resistance level located at 153.50, above which the downward trend that has been visible since the beginning of June would be over.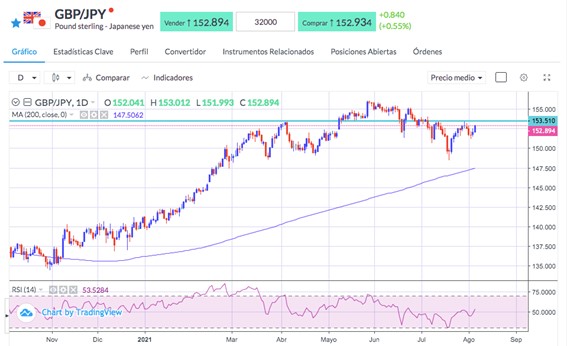 Yesterday's Bank of England MPC meeting also contributed to the upward movement of the British currency. Although the central bank hasn't settled on any change in interest rates or their Q.E. program, traders saw the optimistic assessment of the British economy's evolution as positive.
Sources: Bloomberg, reuters.com.
This information/research prepared by Miguel A. Rodriguez does not take into account the specific investment objectives, financial situation or particular needs of any particular person. The research analyst primarily responsible for the content of this research report, in part or in whole, certifies that the views about the companies and their securities expressed in this report accurately reflect his/her personal views and consequently any person acting on it does so entirely at their own risk.

The research provided does not constitute the views of KW Investments Ltd nor is it an invitation to invest with KW Investments Ltd. The research analyst also certifies that no part of his/her compensation was, is, or will be, directly, or indirectly, related to specific recommendations or views expressed in this report.

The research analyst is not employed by KW Investments Ltd. You are encouraged to seek advice from an independent financial adviser regarding the suitability of the investment, under a separate engagement, as you deem fit that conforms to your specific investment objectives, financial situation or particular financial needs before making a commitment to invest.

The laws of the Republic of Seychelles shall govern any claim relating to or arising from the contents of the information/ research provided.