Investors focus on today's US labor market figures, which are expected to show a non-farm payroll figure of 250k and a 3.7% unemployment rate.
Today, figures for the US labor market will be released.
This is an important fundamental economic event that will influence the Federal Reserve's monetary policy decision.
As is the case in this market scenario, a negative labor market figure, that is, a lower number of non-farm payrolls and/or an increase in the unemployment rate, would be welcomed by the stock markets because it would signal a potential slowing of the Federal Reserve's rate hikes.
Conversely, if today's employment figures show a still tight labor market, this could precipitate a return to risk aversion, with stock markets falling.
Therefore, all investors' attention will be focused on this figure today, which is expected to show a non-farm payroll figure of 250k and a 3.7% unemployment rate.
Another important component of this economic data will be average hourly earnings, which are expected to rise by 5.1%. The Federal Reserve's goal is to prevent wage tension from causing an inflationary spiral; thus, the lower this figure, the better the performance of the stock markets.
Despite yesterday's decline, the indices remain in positive territory for the week, thanks to the bullish momentum seen in the first few days.
S&P500's most important technical level is around 3,900. This level corresponds to the lows reached in early September, and a move above it would signal the beginning of the end of the uptrend that began in mid-August. The US dollar has resumed its upward momentum after several days of a downward correction in the foreign exchange market.
Because the US dollar has a high correlation with market interest rates, only a fall in these could end the current upward trend of the US currency. This would only happen if employment and growth data showed signs of deterioration.
Following an upward correction that took it to the top of a well-defined bearish channel, EUR/USD has resumed its downward path with targets below recent lows. The main factors putting pressure on the single currency are Europe's weak economic and geopolitical situation and the ECB's delay in raising interest rates.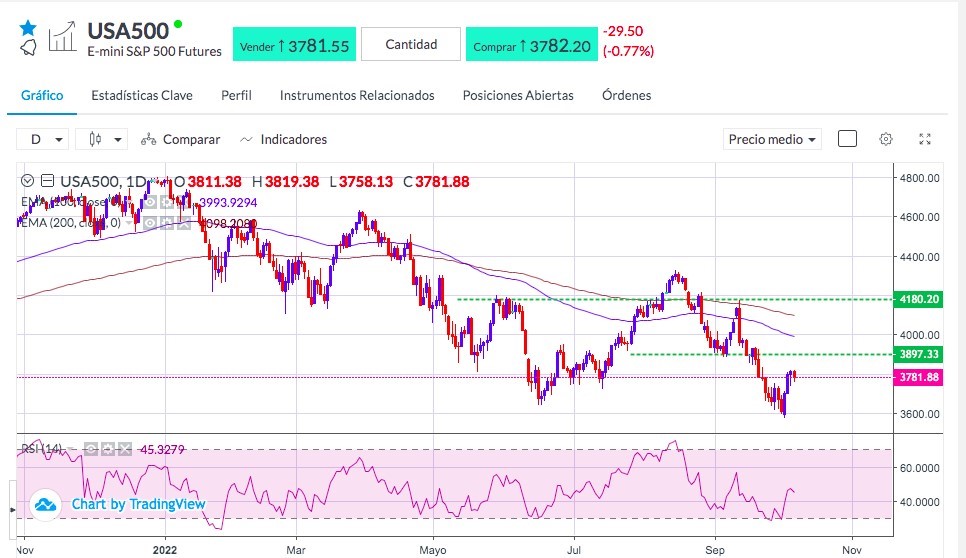 Sources: Bloomberg, Reuters
This information/research prepared by Miguel A. Rodriguez does not take into account the specific investment objectives, financial situation or particular needs of any particular person. The research analyst primarily responsible for the content of this research report, in part or in whole, certifies that the views about the companies and their securities expressed in this report accurately reflect his/her personal views and consequently any person acting on it does so entirely at their own risk.

The research provided does not constitute the views of KW Investments Ltd nor is it an invitation to invest with KW Investments Ltd. The research analyst also certifies that no part of his/her compensation was, is, or will be, directly, or indirectly, related to specific recommendations or views expressed in this report.

The research analyst is not employed by KW Investments Ltd. You are encouraged to seek advice from an independent financial adviser regarding the suitability of the investment, under a separate engagement, as you deem fit that conforms to your specific investment objectives, financial situation or particular financial needs before making a commitment to invest.

The laws of the Republic of Seychelles shall govern any claim relating to or arising from the contents of the information/ research provided.