The war continues without expectations of meaningful changes in the short term and is the main focus of the market beyond economic figures or monetary policy predictions.
But as is usual in these geopolitical scenarios it is not the first time in history that the market developments depend on war events. Equities seem to be getting used to this dynamic, and from time-to-time news emerges that on other occasions would be irrelevant but that in the current ones represent a slight relief.
This was the case yesterday when the European Union outlined a plan, not yet well defined, to end Russia's energy dependency. This plan is budget financed through the issuance of European bonds to develop alternative energies. It aims to achieve an inter-European connection in terms of energy, through which liquefied natural gas imported from other regions of the world other than Russia could be used. In addition, there were talks of allocating a large item of this financing fund to increase defense spending.
Although still very ambiguous, this news was enough to turn the stock indices around, especially the European ones. For example, Germany's DAX – which was losing just over 3% at that time - managed to reverse the trend rising by the same margin. An upward move of just over 6% in one session after a week of steady declines is certainly a hopeful sign that may point to the end of the slump.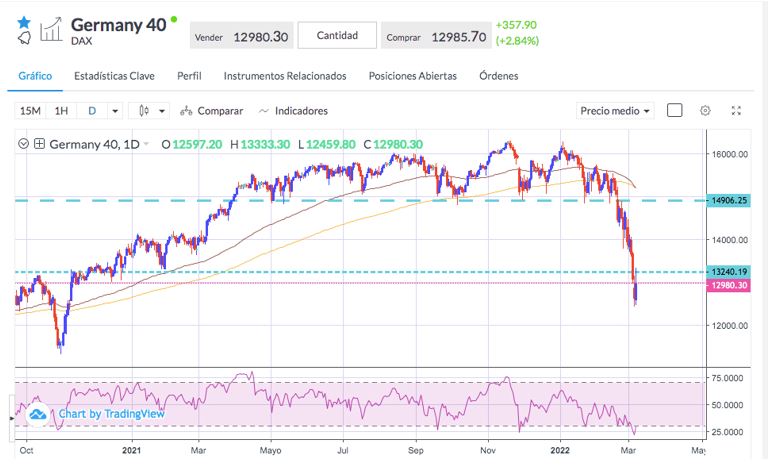 Technically, a weekly close above the 13,200 area would be positive, which could mean a rejection of the break of that support line.
In the field of military confrontation, there was also a slight ray of hope in the market after President Zelensky said that Ukraine had no intention of joining NATO. These words were interpreted as a concession that could open the door to further peace negotiations. In reality, these comments cannot be considered a solid basis for anticipating the end of the invasion. Still, as indicated at the beginning, the market in such an extreme scenario usually behaves in this way.
What is certain is that beyond the war drama, concerns about the economy's future are gradually increasing. This is true, especially regarding inflation with all raw materials and industrial metals hitting new highs every day and oil that is expected to continue rising, especially after the US government announced the end of Russian oil imports.
Crude experienced another day higher to 129.42 and, so far, is showing no signs of exhaustion, pointing to new highs.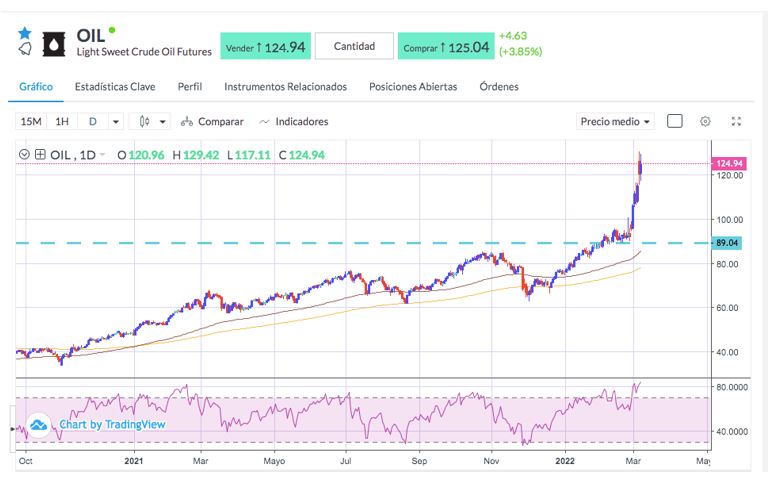 Sources: Bloomberg, Reuters.
This information/research prepared by Miguel A. Rodriguez does not take into account the specific investment objectives, financial situation or particular needs of any particular person. The research analyst primarily responsible for the content of this research report, in part or in whole, certifies that the views about the companies and their securities expressed in this report accurately reflect his/her personal views and consequently any person acting on it does so entirely at their own risk.

The research provided does not constitute the views of KW Investments Ltd nor is it an invitation to invest with KW Investments Ltd. The research analyst also certifies that no part of his/her compensation was, is, or will be, directly, or indirectly, related to specific recommendations or views expressed in this report.

The research analyst is not employed by KW Investments Ltd. You are encouraged to seek advice from an independent financial adviser regarding the suitability of the investment, under a separate engagement, as you deem fit that conforms to your specific investment objectives, financial situation or particular financial needs before making a commitment to invest.

The laws of the Republic of Seychelles shall govern any claim relating to or arising from the contents of the information/ research provided.