The market sentiment changes from day to day due to contradictory news coming from both the West and Russia, which are neither confirmed nor denied.
Stock markets fell on Thursday after Russian-backed separatists and Ukrainian government forces accused each other of firing projectiles, sending investors to seek safety in government bonds, and driving gold prices to eight-month highs.
The two sides accused each other of firing across the ceasefire line in eastern Ukraine, raising alarms at a time when Russia has massed more than 100,000 troops near Ukraine's borders. The West accused Russia of preparing for an invasion. At the same time, Moscow said it was withdrawing some troops and blamed Kyiv for planning an escalation to retake rebel-held territory by force.
Market participants are inclined to believe the most alarming parts, and unfortunately, all attention is centered on this conflict. The subsequent news, true or not, doesn't provide any support for rational market behavior, leaving behind fundamental elements as important as monetary policies.
Due to geopolitical tensions, risk aversion is growing, impacting the foreign exchange market and equities. The Japanese yen strengthened against the US Dollar while stock indices collapsed. However, the fixed income market wasn't affected too much, with the US 10-year bond yield only falling around 6 basis points and still above the levels from the start of the Ukraine crisis.
However, the indices took a severe hit. The technological Nasdaq, as usual, was the most affected due to fears in the market, leading to 3% losses and approaching critical levels around 13900. Below this level, more pronounced losses could be triggered.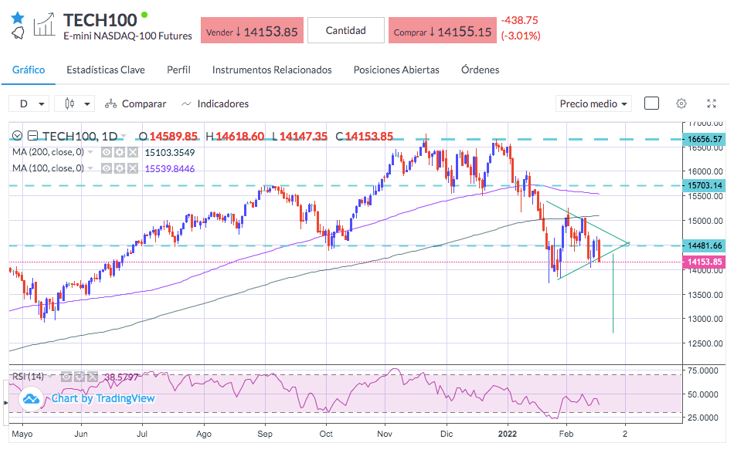 Sources: Bloomberg, Reuters.
This information/research prepared by Miguel A. Rodriguez does not take into account the specific investment objectives, financial situation or particular needs of any particular person. The research analyst primarily responsible for the content of this research report, in part or in whole, certifies that the views about the companies and their securities expressed in this report accurately reflect his/her personal views and consequently any person acting on it does so entirely at their own risk.

The research provided does not constitute the views of KW Investments Ltd nor is it an invitation to invest with KW Investments Ltd. The research analyst also certifies that no part of his/her compensation was, is, or will be, directly, or indirectly, related to specific recommendations or views expressed in this report.

The research analyst is not employed by KW Investments Ltd. You are encouraged to seek advice from an independent financial adviser regarding the suitability of the investment, under a separate engagement, as you deem fit that conforms to your specific investment objectives, financial situation or particular financial needs before making a commitment to invest.

The laws of the Republic of Seychelles shall govern any claim relating to or arising from the contents of the information/ research provided.