The equity markets paused their growth which had started a week ago, corresponding to the so-called Santa Claus rally.
The markets' upward momentum was halted yesterday without any news or fundamental data to justify it. This could be due to the change of market flow from technological stocks to industrial stocks and others like airlines. And as investors rule out Omicron's induced slowdown, the rotation flow accelerates. Analysts now wonder whether this market position makes sense or if there is an excess of optimism among investors.
Uncertainty remains high, and the potential economic consequences deriving from the measures already taken to fight Omicron are yet to be seen. They cannot be compared to those taken at the start of the pandemic. However, for almost a month now, activities in the service sector have been restricted globally, and China has confined an entire province.
The disparate behavior of indices was reflected in rises in the DowJones 30 and slight retraces in Nasdaq value, with the S&P500 in the middle of the two, closing practically unchanged during the session.
Technically, Tech100 has reversed its upward movement around 16,655, making this level its main resistance zone.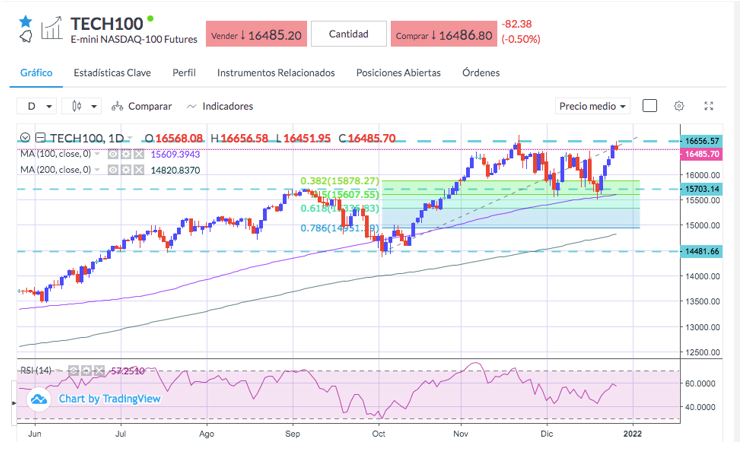 Oil, which rose simultaneously with stock indices, driven by the same positive economic sentiment, also halted its bullish run yesterday.
Pending the crude inventory data scheduled for today, oil failed to pass the level of 76.46, which now acts as primary resistance point.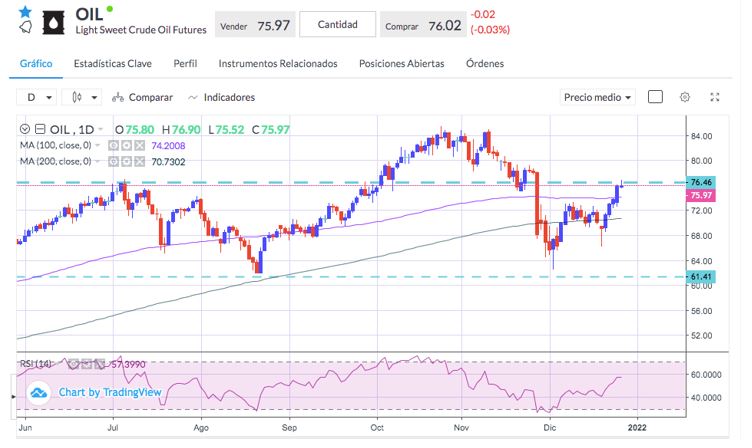 Sources: Bloomberg, Reuters.
This information/research prepared by Miguel A. Rodriguez does not take into account the specific investment objectives, financial situation or particular needs of any particular person. The research analyst primarily responsible for the content of this research report, in part or in whole, certifies that the views about the companies and their securities expressed in this report accurately reflect his/her personal views and consequently any person acting on it does so entirely at their own risk.

The research provided does not constitute the views of KW Investments Ltd nor is it an invitation to invest with KW Investments Ltd. The research analyst also certifies that no part of his/her compensation was, is, or will be, directly, or indirectly, related to specific recommendations or views expressed in this report.

The research analyst is not employed by KW Investments Ltd. You are encouraged to seek advice from an independent financial adviser regarding the suitability of the investment, under a separate engagement, as you deem fit that conforms to your specific investment objectives, financial situation or particular financial needs before making a commitment to invest.

The laws of the Republic of Seychelles shall govern any claim relating to or arising from the contents of the information/ research provided.