Economic data released on Thursday, including jobless claims, pending home sales, and GDP, showed a slowing US economy
The GDP contracted 1.5% in the first quarter and declined 3.9% in April.
However, the market viewed these weak figures for the economy positively. They could lead to a moderate shift in the Federal Reserve after the increases expected during the summer: two of 50 bps.
Minutes from the Fed's May meeting, released on Wednesday, showed majority-backed rate hikes of 50 basis points each in June and July to combat inflation. This eased market concerns about more aggressive action by the Fed that could lead the US economy into a recession.
However, that positive sentiment is still fragile, as Fed members appeared to leave room to take more aggressive action if inflation persists at its current levels.
Wall Street indices rose on Thursday in a broad rally on improving expectations for interest rates and on better results published by retail stores that eliminate fears that supply problems and inflation may have affected the whole sector.
Today a relevant figure for the market will be published: personal consumption expenditure, the data preferred by the Federal Reserve to gauge the evolution of inflation. Investors will closely follow economic data since any sign of improvement, a lower figure, or at least below expectations would be interpreted positively by investors. It would increase the Fed's chances to reduce the number of increases in interest rates that the market anticipates. And this would be a boost for stock indices.
The Dow Jones 30 rose 1.70% yesterday, reaching a resistance level around 32,650, which would open the way for further advances towards the next reference zone at 34,000.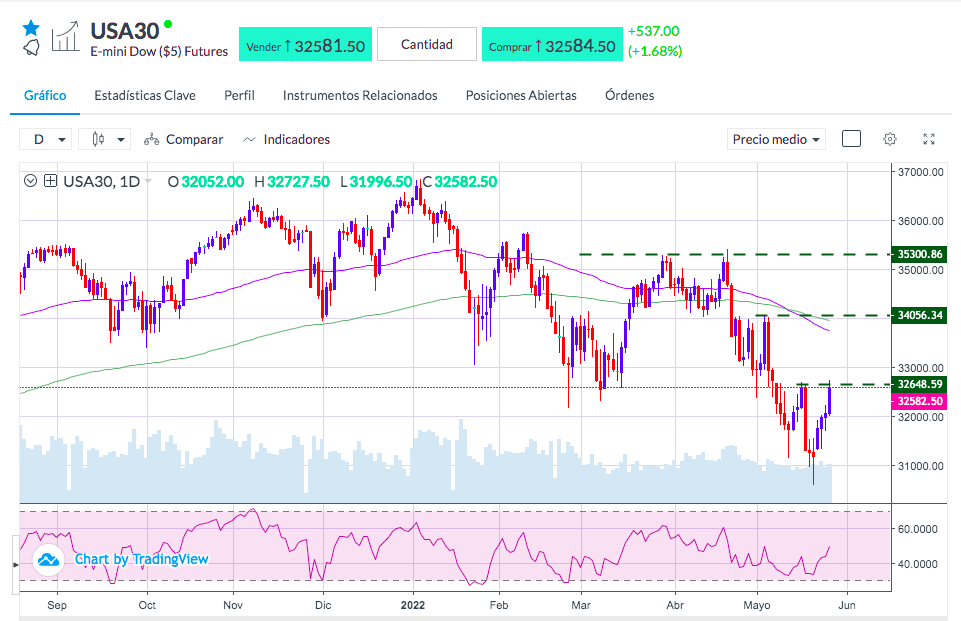 Sources: Bloomberg, Reuters
This information/research prepared by Miguel A. Rodriguez does not take into account the specific investment objectives, financial situation or particular needs of any particular person. The research analyst primarily responsible for the content of this research report, in part or in whole, certifies that the views about the companies and their securities expressed in this report accurately reflect his/her personal views and consequently any person acting on it does so entirely at their own risk.

The research provided does not constitute the views of KW Investments Ltd nor is it an invitation to invest with KW Investments Ltd. The research analyst also certifies that no part of his/her compensation was, is, or will be, directly, or indirectly, related to specific recommendations or views expressed in this report.

The research analyst is not employed by KW Investments Ltd. You are encouraged to seek advice from an independent financial adviser regarding the suitability of the investment, under a separate engagement, as you deem fit that conforms to your specific investment objectives, financial situation or particular financial needs before making a commitment to invest.

The laws of the Republic of Seychelles shall govern any claim relating to or arising from the contents of the information/ research provided.