Jerome Powell's appearance before the US Senate to confirm his nomination as Fed Chairman and discuss future monetary policy plans didn't go as the markets had hoped.
Powell confirmed that the Fed was ready to finalize its bond purchase program as planned. The Federal Reserve Chairman continued by saying that they would begin the process of rate hikes to combat inflation in what he called normalization of monetary policy. He concluded that once the economy recovers and employment levels are at pre-crisis levels, monetary policy has to return to normal.
So far, everything should go as expected this year – there will most likely be four interest rate rises (of 0.25% each), and bond purchases should end in the coming months. But apparently, the market was expecting an even more "hawkish" tone from Powell due to his previous statement regarding the Fed's balance sheet reduction.
Although the Fed Head also spoke on this subject - noting that "in this year" the central bank's balance sheet would begin to thin - he failed to provide more details, somehow ruling out the possibility of bond sales. Most of the Fed's balance sheet bonds have a maturity of no more than 2 years.
Judging from the market reaction, we can deduce that investors expected a more aggressive approach on this matter, at least with some announcement about the possibility of a more drastic balance reduction.
How exactly did the markets react?
Stock indices rebounded, with Tech100 closing up 1.47%, the US Dollar weakened against all currencies except the struggling Japanese yen, and oil rose 3.66%, reaching a two-month high.
Elsewhere in the bond market, yields along the curve were not particularly affected, recording only minor losses.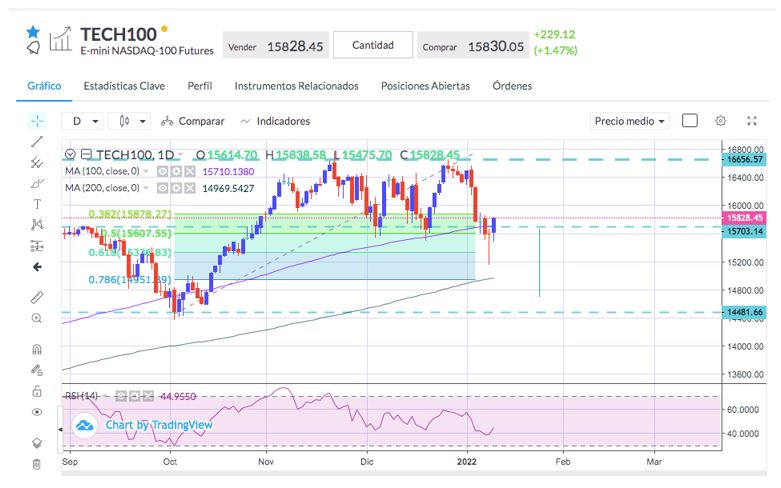 Drawing a line, we can conclude that yesterday's market reaction was disproportionate. The process of tightening monetary policy is an irrefutable fact, as Powell left open the possibility for the tapering process to be completed before March. This is something the market has not considered yet, potentially leading to a further degree of monetary policy tightening.
Everything could also depend on inflation data, such as the CPI figures, which showed an alarming 7% forecast for December.
Sources: Bloomberg, Reuters.
This information/research prepared by Miguel A. Rodriguez does not take into account the specific investment objectives, financial situation or particular needs of any particular person. The research analyst primarily responsible for the content of this research report, in part or in whole, certifies that the views about the companies and their securities expressed in this report accurately reflect his/her personal views and consequently any person acting on it does so entirely at their own risk.

The research provided does not constitute the views of KW Investments Ltd nor is it an invitation to invest with KW Investments Ltd. The research analyst also certifies that no part of his/her compensation was, is, or will be, directly, or indirectly, related to specific recommendations or views expressed in this report.

The research analyst is not employed by KW Investments Ltd. You are encouraged to seek advice from an independent financial adviser regarding the suitability of the investment, under a separate engagement, as you deem fit that conforms to your specific investment objectives, financial situation or particular financial needs before making a commitment to invest.

The laws of the Republic of Seychelles shall govern any claim relating to or arising from the contents of the information/ research provided.