Tensions rise from the energy sector once more.
Oil rose sharply because of the market once again weighing in the possibility of an embargo on Russian oil by Europe. US President Joe Biden is heading to Europe to meet with his allies and continues pushing for oil and natural gas imports from Russia to be suspended.
There are European countries that support this proposal. However, among others, Germany is opposed to it due to the serious consequences that it could bring, which could lead to a recession in Europe. A huge economic slowdown caused by the war is not ruled out.
Russia announced that purchases of oil and Natural Gas by "unfriendly" countries must be paid in rubles. The ruble strengthened slightly after news came out. A decision of this type has little credibility since it would not bring any benefit to Russia. At the moment, the country needs income in strong currencies such as dollars or euros to deal with payments abroad.
In addition to all the above, the markets learned yesterday that an oil supply facility in the Sea of ​​Azov had suffered serious damage due to weather conditions. This unfortunate event could lead to a drop in supply of around 1M BPD.
These factors contributed to oil prices rising almost 6% to the $115 area. From a technical perspective, oil is on track for the latest highs, around $130.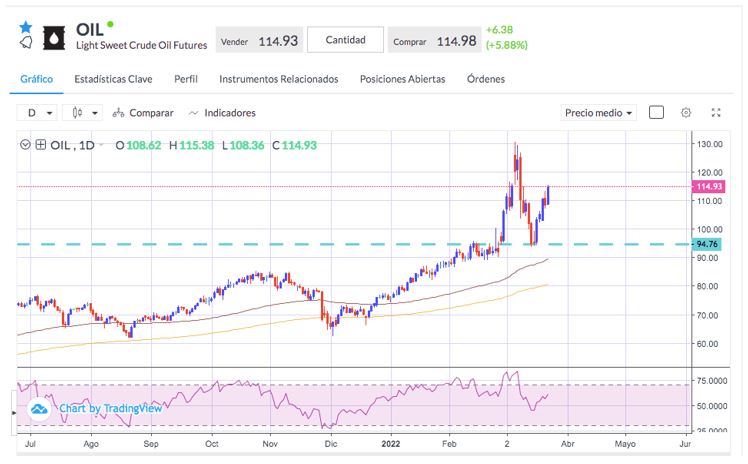 Energy raw materials prices tightened, worsening an already worrying inflationary scenario and negatively impacting the stock markets. Additionally, the Fed officials showed their determination to carry on a more aggressive monetary policy approach, which could lead to a 50 bps interest rise increase in May.
The Nasdaq technology index fell just over 1%. From a technical point of view, this movement can be a simple correction after a week of continuous rises. The scenario remains bullish as long as prices stay above the 14,250 mark.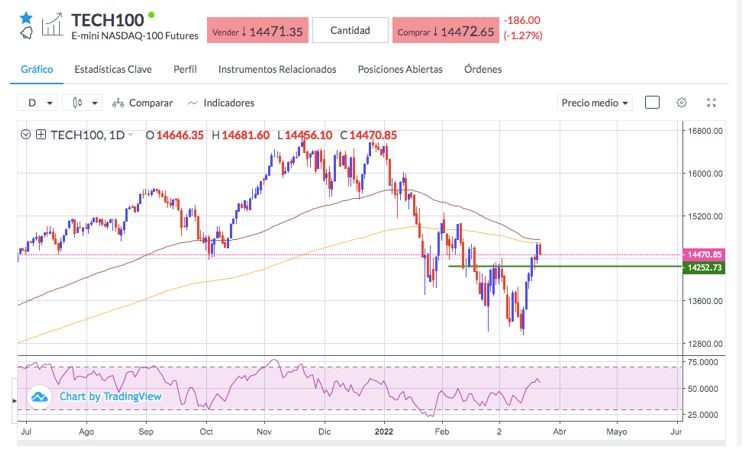 Sources: Bloomberg, Reuters.
This information/research prepared by Miguel A. Rodriguez does not take into account the specific investment objectives, financial situation or particular needs of any particular person. The research analyst primarily responsible for the content of this research report, in part or in whole, certifies that the views about the companies and their securities expressed in this report accurately reflect his/her personal views and consequently any person acting on it does so entirely at their own risk.

The research provided does not constitute the views of KW Investments Ltd nor is it an invitation to invest with KW Investments Ltd. The research analyst also certifies that no part of his/her compensation was, is, or will be, directly, or indirectly, related to specific recommendations or views expressed in this report.

The research analyst is not employed by KW Investments Ltd. You are encouraged to seek advice from an independent financial adviser regarding the suitability of the investment, under a separate engagement, as you deem fit that conforms to your specific investment objectives, financial situation or particular financial needs before making a commitment to invest.

The laws of the Republic of Seychelles shall govern any claim relating to or arising from the contents of the information/ research provided.