Today's menu includes yields, shifting market sentiment, essential economic reports, falling bitcoin prices and more.
Yields, central banks, and indices.
European bonds yields are also under the radar, with the German 10-year benchmark reaching levels close to 0% after having been in a negative zone in the last two years.
The vice president of the European Central Bank has made statements in this regard, saying that the current levels of long-term interest rates look favorable. However, if they continue their upward path, they will start representing a solid argument against its current monetary policy intended to favor financing conditions for stimulating the economy.
This sentiment is transmitted to the rest of the market and is the main reason why European bonds behave as they do. With the recovery rate of the European economy developing at a much lower level than before, ECB's objectives might become harder to reach.
The comments and analysis on inflation expectations are abundant in the market. More and more voices warn about the Fed's passivity in the face of a potential inflationary threat.
All of these factors are directly affecting investors' risk sentiment and stock indices. Both North American and European benchmarks reflect it, either with lack of progress or downward corrections.
In the case of Germany's DAX index, its uptrend stopped at the beginning of last month, and it is currently moving in the middle of a wide lateral range with a main support zone between the 15000 and 15100 levels. Under these levels, the last uptrend would open the way to the downside with targets in the 14500 area.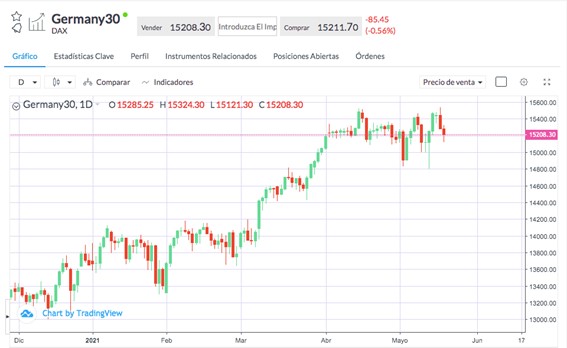 Economic reports and cryptos.
April's CPI data for the euro area was published today, showing a figure of 1.6% in year-on-year terms, which is still far from the ECB's inflation target of around 2%. Therefore, the central bank could intensify its expansionary monetary policy without jeopardizing the inflation target.
A relevant movement is also taking place in the cryptocurrency market after China banned banks and applications from operating with the digital currency, in addition to Elon Musk's decision not to use bitcoin as a means of payment.
As a digital asset, Bitcoin is also influenced by negative investor sentiment at a general level and is increasingly showing a positive correlation with stock indices.
Technically it is now in a support zone around 40000, losing 40% compared to its all-time highs. Below this zone, the next support level would be around 29800.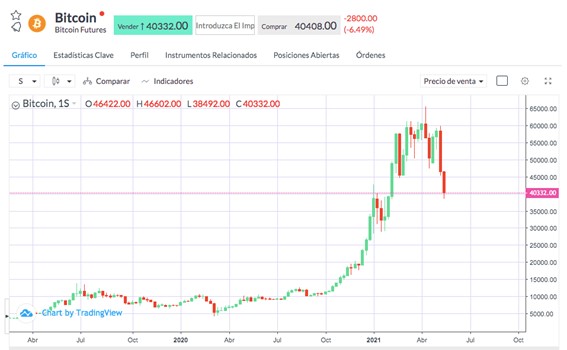 Sources: Bloomberg, reuters.com.
This information/research prepared by Miguel A. Rodriguez does not take into account the specific investment objectives, financial situation or particular needs of any particular person. The research analyst primarily responsible for the content of this research report, in part or in whole, certifies that the views about the companies and their securities expressed in this report accurately reflect his/her personal views and consequently any person acting on it does so entirely at their own risk.

The research provided does not constitute the views of KW Investments Ltd nor is it an invitation to invest with KW Investments Ltd. The research analyst also certifies that no part of his/her compensation was, is, or will be, directly, or indirectly, related to specific recommendations or views expressed in this report.

The research analyst is not employed by KW Investments Ltd. You are encouraged to seek advice from an independent financial adviser regarding the suitability of the investment, under a separate engagement, as you deem fit that conforms to your specific investment objectives, financial situation or particular financial needs before making a commitment to invest.

The laws of the Republic of Seychelles shall govern any claim relating to or arising from the contents of the information/ research provided.