US markets came to the rescue yesterday, rallying from the lows of the day and helping to steady the battered global equity markets
US Equities


The US 10-year bond yield fell from a near 3% high to 2.76% during yesterday's session, despite the Fed's harsh statements at the end of last week in which they hinted at the possibility of hikes up to 75 bps at their next meetings.
The market has already discounted interest rates between 2% - and 2.50% for 2022 in the United States. These levels are considered to be those of a neutral monetary policy, neither restrictive nor stimulating. However, everything will depend on the inflation figures' evolution throughout the year.

The global demand for raw materials should ease over time, especially in the energy sector. The markets expect a slowdown in the economy and a steady drop in demand. Moreover, the recent lockdowns in China contribute to this scenario.


Commodities
Oil fell $6 yesterday to the $94.70/barrel support zone, from where it rebounded later in the day. The same thing happened with Natural Gas, which reached the $6.50 zone.
These downward corrections in raw materials prices could be enough for the next inflation figures to show some moderation. Thus, the Federal Reserve does not need to reach the interest rate levels that the market is currently discounting.
Therefore, US bond yields experience downward movements like we witnessed yesterday. Also, major banks such as Bank of America state a resumption of the bonds purchase and a return of yields to levels as low as 2.25%, as was the case of the 10-year bond.
Uncertainty is high, and in the current circumstances of a war like the one in Ukraine, it isn't easy to make a forecast. But, for now, at least yesterday, the market was influenced by a more optimistic scenario regarding the evolution of interest rates. After the crash on Friday, the American indices strongly recovered.


US Earnings Results


Yesterday, Coca-Cola published positive quarterly results. Today, two of the four companies with the largest market capitalization - Microsoft and Google - will announce earnings. It will undoubtedly be the main event that the market will closely watch, and that will affect the quote of the Nasdaq index, which recovered a large part of Friday's losses with a rise of 1.60%.

However, from a technical analysis perspective, it is still a long way off from the 14,280 zone above, which will start to gain upward traction. The earnings released during the week will become the main driver of the markets from now on.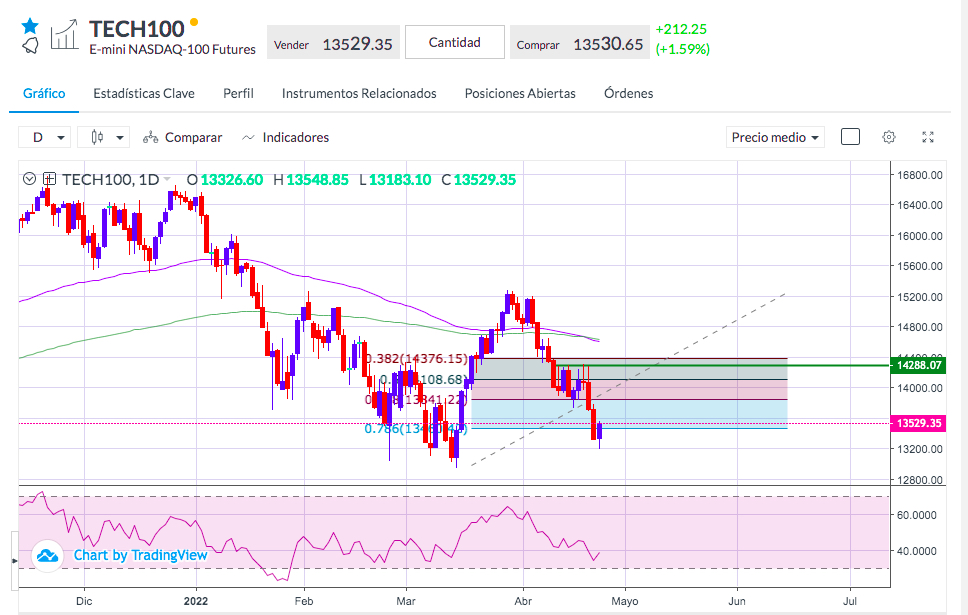 Sources: Bloomberg.com, Reuters.com
This information/research prepared by Miguel A. Rodriguez does not take into account the specific investment objectives, financial situation or particular needs of any particular person. The research analyst primarily responsible for the content of this research report, in part or in whole, certifies that the views about the companies and their securities expressed in this report accurately reflect his/her personal views and consequently any person acting on it does so entirely at their own risk.

The research provided does not constitute the views of KW Investments Ltd nor is it an invitation to invest with KW Investments Ltd. The research analyst also certifies that no part of his/her compensation was, is, or will be, directly, or indirectly, related to specific recommendations or views expressed in this report.

The research analyst is not employed by KW Investments Ltd. You are encouraged to seek advice from an independent financial adviser regarding the suitability of the investment, under a separate engagement, as you deem fit that conforms to your specific investment objectives, financial situation or particular financial needs before making a commitment to invest.

The laws of the Republic of Seychelles shall govern any claim relating to or arising from the contents of the information/ research provided.