The US Treasury yields fell after data showed US consumer spending rose in April and the rebound in the inflation slowed down
Both are positive signs for the markets since analysts believe that inflation may have reached its peak. On the other hand, domestic demand reflected in the consumer spending data remains solid despite inflation. Therefore, it can be deduced that the economy returns to a phase of growth after the negative figure for the first quarter.
Consumer spending, which accounts for more than two-thirds of US economic activity, rose 0.9% last month, and while inflation continued to rise in April, it was lower than in recent months. The personal consumption expenditure (PCE) price index rose 0.2%, the smallest gain since November 2020.
In its May meeting minutes released last week, the US Federal Reserve called inflation a serious concern, and most Fed members backed two half percentage point rate hikes in June and July. However, they were also open to scaling their monetary policy decisions in line with future developments in inflation data while acknowledging that aggressive rises in interest rates could hurt economic growth.
Therefore, the figures published on Friday can be regarded as positive, considering that the Federal Reserve is not forced to raise interest rates as much as anticipated. This was reflected in the performance of the stock market indices.
On Friday, after the data, Wall Street rallied, with all three major US stock indexes decisively ending their longest weekly losing streak in decades.
The highest performance index was the technological Nasdaq, which advanced 3.61%.
Technically it has broken above the level of 12,576, which puts it in a position to end the previous downtrend and close to the next reference level located at 13,542.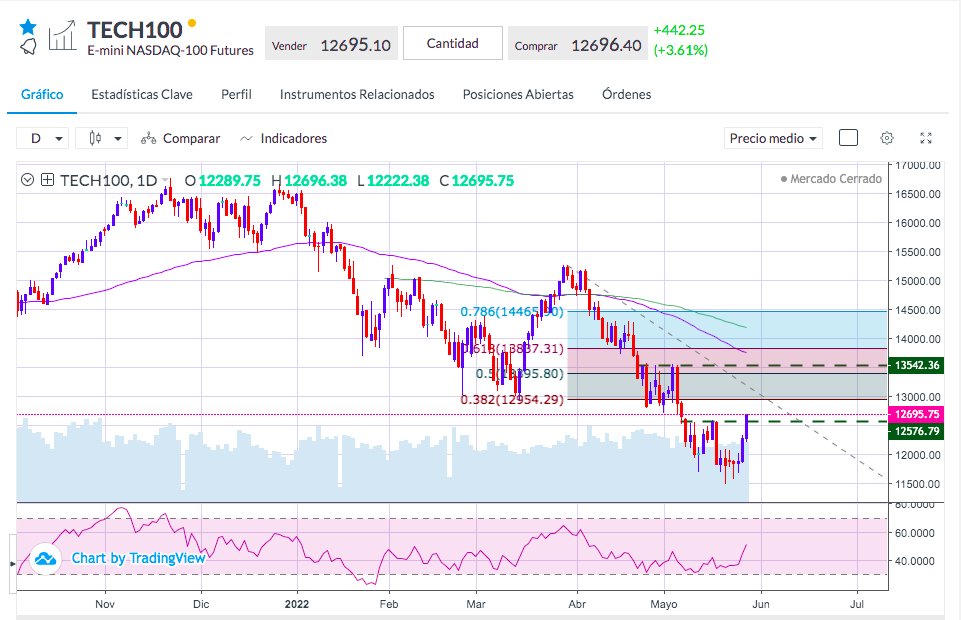 Sources: Bloomberg, Reuters.
This information/research prepared by Miguel A. Rodriguez does not take into account the specific investment objectives, financial situation or particular needs of any particular person. The research analyst primarily responsible for the content of this research report, in part or in whole, certifies that the views about the companies and their securities expressed in this report accurately reflect his/her personal views and consequently any person acting on it does so entirely at their own risk.

The research provided does not constitute the views of KW Investments Ltd nor is it an invitation to invest with KW Investments Ltd. The research analyst also certifies that no part of his/her compensation was, is, or will be, directly, or indirectly, related to specific recommendations or views expressed in this report.

The research analyst is not employed by KW Investments Ltd. You are encouraged to seek advice from an independent financial adviser regarding the suitability of the investment, under a separate engagement, as you deem fit that conforms to your specific investment objectives, financial situation or particular financial needs before making a commitment to invest.

The laws of the Republic of Seychelles shall govern any claim relating to or arising from the contents of the information/ research provided.