US stock indices fell on Tuesday after Walmart announced a "profit warning" and raised fears in the retail sector that consumers were cutting back on discretionary spending due to inflation
At the close of the session, Microsoft and Google announced earnings with disparate results. Although none of them met analysts' forecasts for Q2, Google substantially improved its cloud and ads revenue. After the announcement, it shot up over 3%.
Wall Street's major indices have rebounded from mid-June lows as falling commodity prices and downbeat economic data prompted investors to pare back expectations of aggressive rate hikes by the Federal Reserve. However, recession fears have weakened momentum in the last three days.
In this sense, today's Fed meeting has special relevance. The central bank is widely expected to raise interest rates by 75 basis points. With the evident slowdown in the economy that is reflected in the latest data, there is a possibility that the Fed will decide to be less aggressive with a hike of just 50 bps. Or on the other hand, President Powell could make fewer "hawkish" comments after today's meeting if the interest rate is raised as expected.
Economic data continues to be on a downward path. US consumer confidence fell for the third straight month in July amid lingering concerns about higher inflation and rising interest rates that point to slower economic growth at the start of Q3.
The Q2 GDP advance data will be published tomorrow, which could be negative after the US economy contracted in the year's first three months. This is another factor of concern in the market. It will probably condition today's Federal Reserve decision since two consecutive quarters with a negative GDP figure is the definition of a technical recession.
The S&P500 index closed the session down by 1%. From a technical point of view, it has retraced from the Fibonacci 61,8% threshold, located at 3.985, now the level to beat to continue the bullish momentum.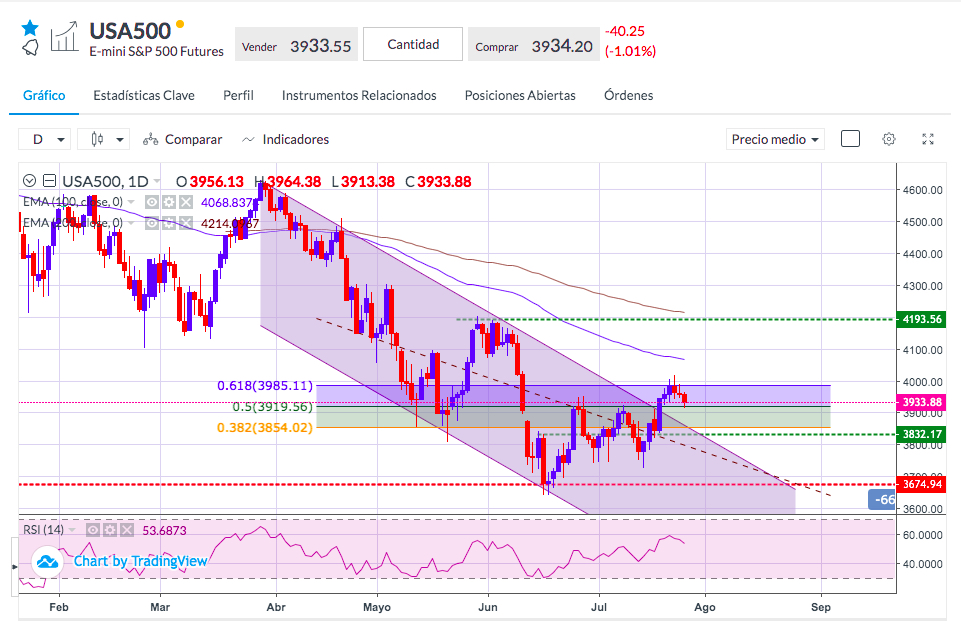 Sources: Bloomberg.com, reuters.com
This information/research prepared by Miguel A. Rodriguez does not take into account the specific investment objectives, financial situation or particular needs of any particular person. The research analyst primarily responsible for the content of this research report, in part or in whole, certifies that the views about the companies and their securities expressed in this report accurately reflect his/her personal views and consequently any person acting on it does so entirely at their own risk.

The research provided does not constitute the views of KW Investments Ltd nor is it an invitation to invest with KW Investments Ltd. The research analyst also certifies that no part of his/her compensation was, is, or will be, directly, or indirectly, related to specific recommendations or views expressed in this report.

The research analyst is not employed by KW Investments Ltd. You are encouraged to seek advice from an independent financial adviser regarding the suitability of the investment, under a separate engagement, as you deem fit that conforms to your specific investment objectives, financial situation or particular financial needs before making a commitment to invest.

The laws of the Republic of Seychelles shall govern any claim relating to or arising from the contents of the information/ research provided.