Yesterday, US stock indices had a session of high volatility with continuous ups and downs, only to end with slight losses
In any case, it was a session of moderate stabilization after yesterday's 4% drop, even though treasuries continued to be under strong downward pressure, with the 10-year bond yield at 3.47%.
The market's focus is clearly on today's Federal Reserve meeting. Practically, there is unanimity on a 75-bps hike by the Fed. And this radical change - remember that last week the consensus was for rate hikes of 50 bps - is based on some publications in the Wall Street Journal of well-known "Fed Watchers" pointing to it. The "Fed Watchers" are traditionally regarded as spokespersons of the Federal Reserve. The Central Bank of the United States uses them to leak information to the market and thus prepare it for its next actions. If this is true, why the Fed has decided to change its mind is the rise in the CPI figure published on Friday. At first glance, it does not seem like a solid reason, considering that it is a single figure and that the core CPI showed a decline. But everything indicates that the Fed has decided on a more aggressive action for today's meeting, and this has caused interest rate expectations to shoot up. Fed funds futures anticipate the end of interest rates at around 3.80%, almost 100 bps above what was expected just a week ago.
It does not seem that the situation has changed so much for such a radical move in such a short time. Inflation remains high, but it depends mainly on factors as volatile as energy prices, which can fluctuate in a matter of days. So, it seems unlikely that the Fed would risk provoking an outburst in the markets like the one we have witnessed recently. It is possible that even with the expected 75 bps rise, Powell will be more flexible in subsequent decisions, leaving open the possibility of smaller rate cuts and even pauses if the inflation data allows it. If this were the Fed Chairman's speech, equity markets should experience some relief with rallies from current levels.
But for now, and at yesterday's close, the S&P500 ended the day with a loss of 0.57%, representing a drop from the historical highs of 22.49%. If maintained, it would mean the index's entry into what is known as a bear market. Everything will depend exclusively on what the Fed decides today on interest rates and what it communicates to the market about its future intentions.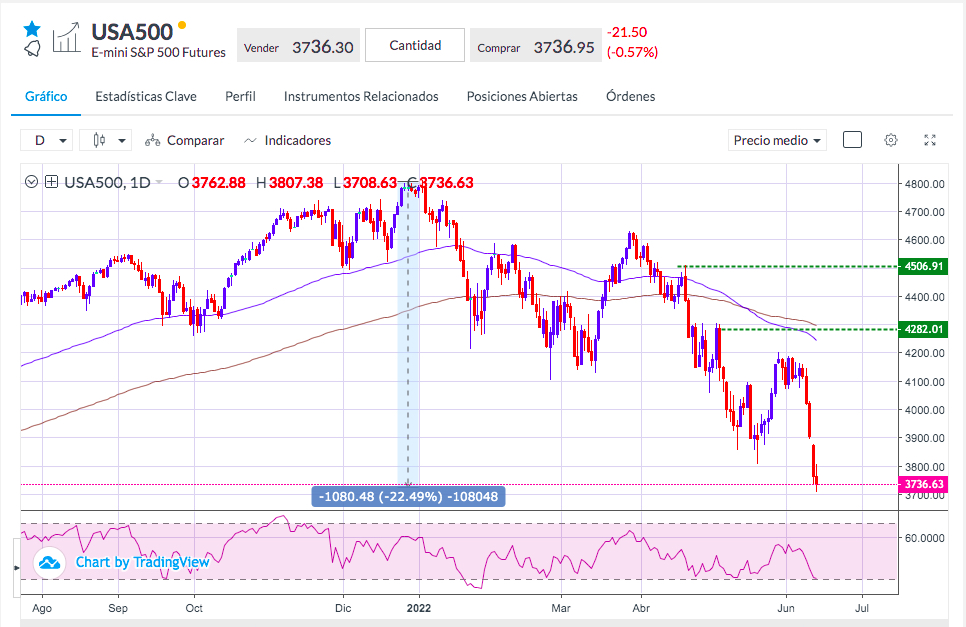 Sources: Bloomberg, Reuters
This information/research prepared by Miguel A. Rodriguez does not take into account the specific investment objectives, financial situation or particular needs of any particular person. The research analyst primarily responsible for the content of this research report, in part or in whole, certifies that the views about the companies and their securities expressed in this report accurately reflect his/her personal views and consequently any person acting on it does so entirely at their own risk.

The research provided does not constitute the views of KW Investments Ltd nor is it an invitation to invest with KW Investments Ltd. The research analyst also certifies that no part of his/her compensation was, is, or will be, directly, or indirectly, related to specific recommendations or views expressed in this report.

The research analyst is not employed by KW Investments Ltd. You are encouraged to seek advice from an independent financial adviser regarding the suitability of the investment, under a separate engagement, as you deem fit that conforms to your specific investment objectives, financial situation or particular financial needs before making a commitment to invest.

The laws of the Republic of Seychelles shall govern any claim relating to or arising from the contents of the information/ research provided.