Market risk sentiment continues in a timid risk-on mode with no relevant economic figures released on the day.
Stock markets rise slowly, except the European indices held back by the increase in the number of infected, the announcement of a state of alarm in Madrid, and the probability that these measures will extend to other European capitals.
In this mixed scenario, the US Dollar is weakened by the outflow of capital that had previously taken refuge in the USD in terms of market risk. The North American fixed income has also continued to fall in price and rise in yield.
EUR/USD, with this weakness in the Dollar, has risen to slightly exceed the upper level of the range where it has traded in recent weeks at 1.1800. As mentioned in yesterday's overview, the single currency does not have much bullish momentum due to ECB members' declarations against a strong Euro as it represents a brake on their monetary policy objectives and their inflation target.
GOLD is benefiting from this mixed market situation concerning its risk sentiment. Though the bets in the stock market tilt towards a recovery caused by the implementation of fiscal stimulus policies, uncertainty remains at high levels due to different reasons such as the proximity of the North American elections, the lack of agreement on Brexit, the worsening of the epidemiological situation in Europe.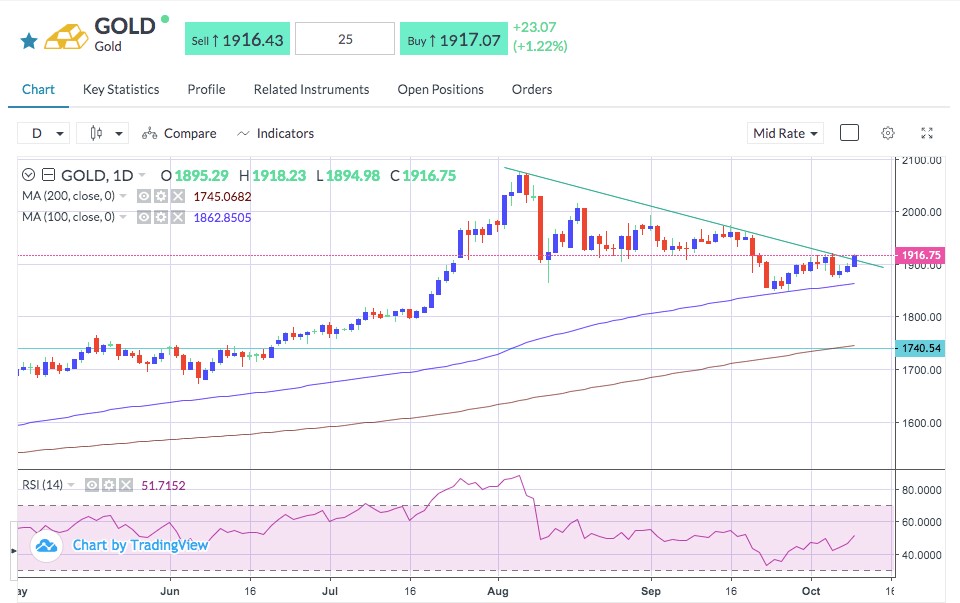 Another factor contributing to the rise of the precious metal is the weakness of the Dollar.
Technically, it is breaking a downtrend line that has been in place since early August and needs to break above the previous high of $1921 to pave the way to the concentration zone around $1950.
This information/research prepared by Miguel A. Rodriguez does not take into account the specific investment objectives, financial situation or particular needs of any particular person. The research analyst primarily responsible for the content of this research report, in part or in whole, certifies that the views about the companies and their securities expressed in this report accurately reflect his/her personal views and consequently any person acting on it does so entirely at their own risk.

The research provided does not constitute the views of KW Investments Ltd nor is it an invitation to invest with KW Investments Ltd. The research analyst also certifies that no part of his/her compensation was, is, or will be, directly, or indirectly, related to specific recommendations or views expressed in this report.

The research analyst is not employed by KW Investments Ltd. You are encouraged to seek advice from an independent financial adviser regarding the suitability of the investment, under a separate engagement, as you deem fit that conforms to your specific investment objectives, financial situation or particular financial needs before making a commitment to invest.

The laws of the Republic of Seychelles shall govern any claim relating to or arising from the contents of the information/ research provided.