Leading European and North American stock indices rise before the weekend
Today's focus is on the preliminary July PMI releases, especially given the recent shift in market risk sentiment, motivated by concerns surrounding a slow economic recovery.
Investor optimism would probably return if forecasts point towards stability in the US economy and Eurozone data also shows improvements – even though the ECB did not provide additional relief surrounding rates and QE in yesterday's meeting.
The ECB seemed to intensify its dovish stance based on a strategic revision of the inflation target, possibly paving the way for a chance to remain accommodative – and pointing out that interest rates might stay at actual levels or lower until inflation reaches its 2% target.
Since the ECB estimates the inflation target could be reached by mid-2022, there doesn't seem to be any rush to raise rates. The same could be seen with the bond purchase program, expected to maintain an accelerated pace of €20 million/week until September.
Future growth and inflation forecast updates could allow the ECB to create a better plan for the upcoming period, but the actual dovish stance led the German Bund yield to lose three basis points (bps) down to -0.43%.
After a high volatility rebound, the Euro resumed its downward movement, trading again near the 1.1750 area.
EUR/USD is trading near the relevant support located at 1.1710, reached in March 2021. From a technical analysis point of view, this level could activate a double top with a significant downward projection.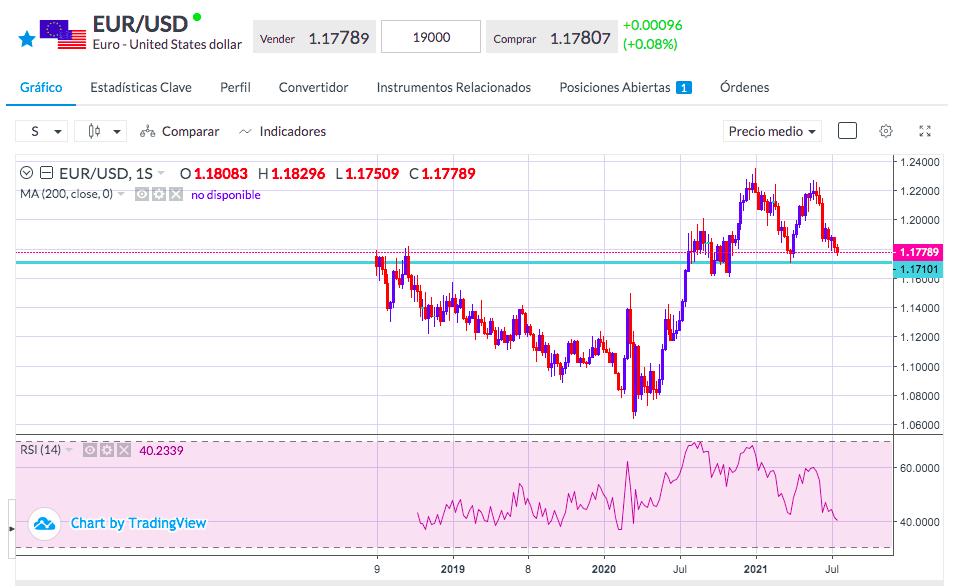 The same dovish tone of the European Central Bank has helped European indices recover some of this week's lost territory – a week that began with a high risk aversion and produced an even higher level of market volatility.
The DAX regains its upward momentum and seems to approach a significant resistance level located around 15,800, a level touched on several occasions since June 2021. Another breakthrough would mark new all-time highs, supporting an apparent significant bullish moment. Improvement in PMI data already published for Europe and Germany – in which both manufacturing and services have exceeded forecasts – could become a positive factor for the performance of this index, eliminating doubts about the pace of economic recovery.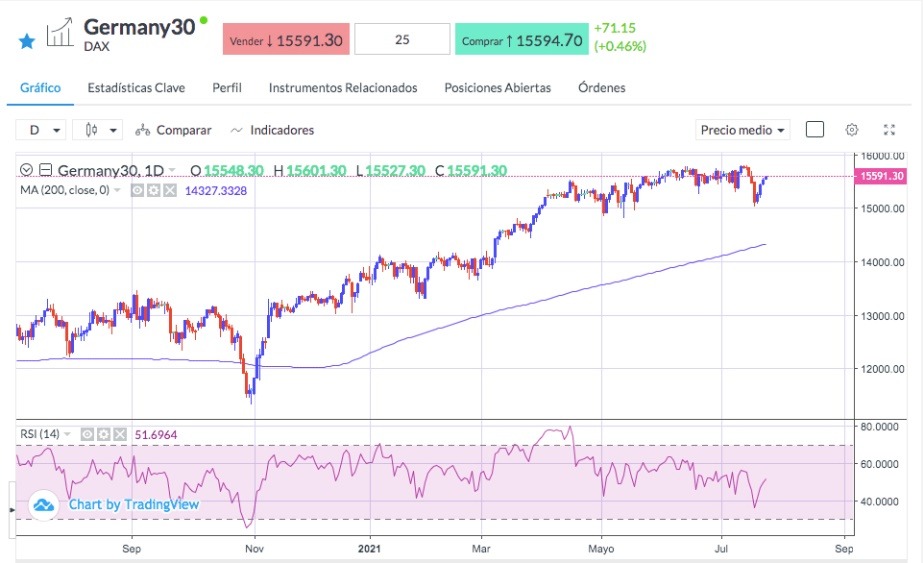 Sources: Bloomberg.com, reuters.com
This information/research prepared by Miguel A. Rodriguez does not take into account the specific investment objectives, financial situation or particular needs of any particular person. The research analyst primarily responsible for the content of this research report, in part or in whole, certifies that the views about the companies and their securities expressed in this report accurately reflect his/her personal views and consequently any person acting on it does so entirely at their own risk.

The research provided does not constitute the views of KW Investments Ltd nor is it an invitation to invest with KW Investments Ltd. The research analyst also certifies that no part of his/her compensation was, is, or will be, directly, or indirectly, related to specific recommendations or views expressed in this report.

The research analyst is not employed by KW Investments Ltd. You are encouraged to seek advice from an independent financial adviser regarding the suitability of the investment, under a separate engagement, as you deem fit that conforms to your specific investment objectives, financial situation or particular financial needs before making a commitment to invest.

The laws of the Republic of Seychelles shall govern any claim relating to or arising from the contents of the information/ research provided.